Beachgate by Address at Emaar Beachfront
Introducing a new opportunity in Dubai's most exclusive island, Beachgate by Address at Emaar Beachfront. A unique blend of cosmopolitan living, prime location and luxury seaside lifestyle.
Situated alongside pristine sands and the shimmering waters of the Arabian Gulf. With the best of new Dubai on your doorstep and captivating sea and skyline views all around, these luxury branded residences place you at centre of modern beachfront living.
Located towards the end of the Peninsula Direct access to Private Beach Uninterrupted views of the sea and Dubai Marina Directly adjacent to Signature Hotel. An elegant 37 Floor Building 1 to 4 Bedroom apartments
From the spacious balconies of Emaar Beachfront Beachgate by Address, residents will be able to enjoy amazing views of the Arabian Gulf, Ain Dubai, the Palm Jumeirah, Burj Al Arab and Dubai Marina skyline.
LOCATION
Beachgate by Address has a prime beachfront location on the best plot in Emaar Beachfront, where there will be plenty of Michelin star restaurants around the complex. The building will be surrounded by Grand Bleu Tower Interiors by Elie Saab, Palace Beach Residence and Beach Mansion.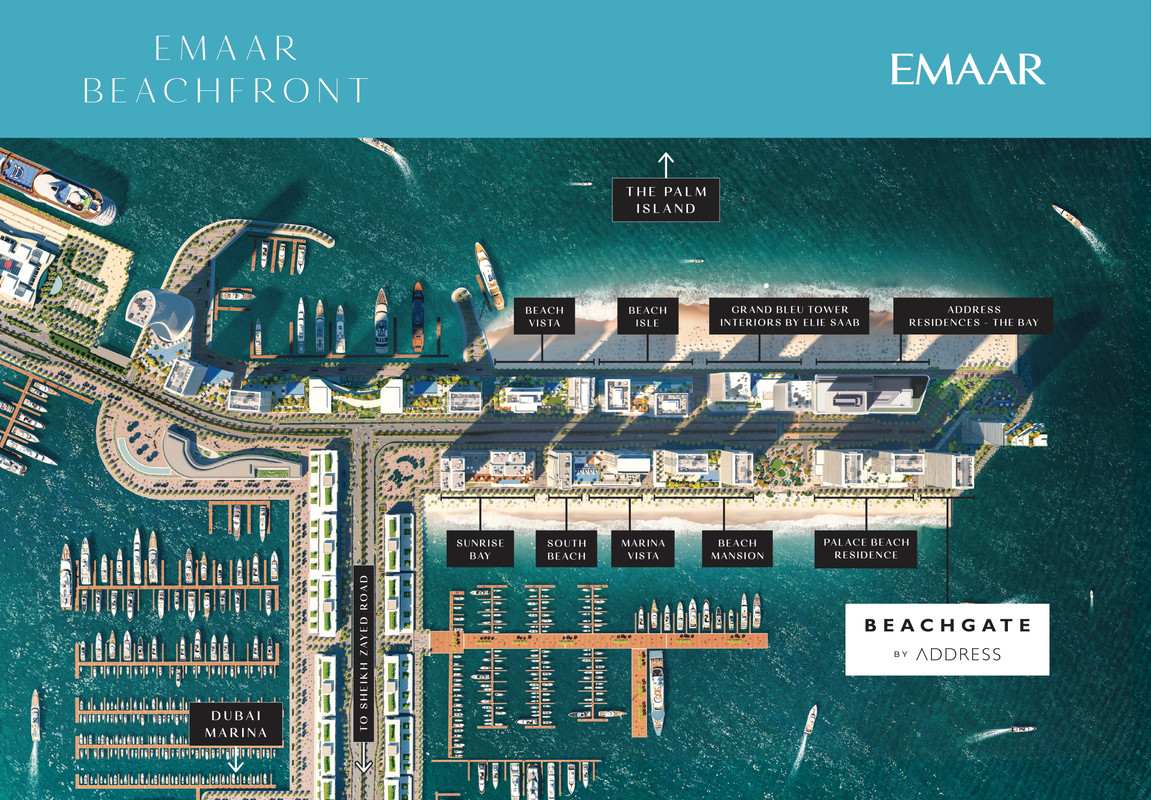 PRICES
1 Bedroom 787-795 sqft
AED 2.97 to 3.07 M
2 Bedrooms 1,233-1,809 sqft
AED 4.68 to 5.46 M
3 Bedrooms 1,595-2,224 sqft
AED 6.43 to 8.87 M
4 Bedrooms 2,420-2,421 sqft
AED 10.67 to 11.04 M
4 Bedrooms Penthouse 3,047-7,038 sqft
AED 11.91 to 26.40 M
1, 2, 3 & 4
Bedroom Apartments
80/20
Payment Plan
Handover
Q4 2026
Features
Located towards the end of the Peninsula

Direct access to Private Beach

Uninterrupted views of the sea and Dubai Marina

Directly adjacent to Signature Hotel.

An elegant 37 Floor Building

1 to 4 Bedroom apartments
Amenities
BBQ Area
Swimming pool
Kid's Play Area
F&B outlets
Community Center
Fitness Center
Beach Access