ELIE SAAB AT ARABIAN RANCHES III
Emaar Properties and iconic Lebanese designer Elie Saab are presenting a second phase of branded ultra-luxury villas in the prestigious gated area of Arabian Ranches III. The newest addition includes 4 & 5-bedroom villas for sale with exclusive designs of interiors, complete with luxury amenities.
Elie Saab Villas is a residential development in the new Arabian Ranches III community, developed by Emaar Properties. The complex offers 4 and 5-bedroom villas with a roof lounge. All villas have ground, first and second floors. The total property area of 4-bedroom villas ranges from 4635 to 4652 sqft. The layout of the ground floor includes carport, bedroom, bathroom, foyer, powder room, open to sky, dining area, living area, laundry, utility and maid's room with maid's bathroom. There are 2 balconies, 3 bedrooms, 3 bathrooms, walk-in closet, passage and family room on the first floor. The layout of the second storey (roof) comprises a huge roof terrace, second family room, bathroom and passage.

The property size of 5-bedroom villas varies from 5422 to 5944 sqft. The layout of the ground floor is the same as in 4-bedroom villas with the first storey comprising several balconies, 4 bedrooms and bathrooms, a family room, walk-in closet, toilet and shower. There is a spacious roof terrace, family room and bathroom on the second floor (roof) and there is also a balcony on the roof, which is only available in 5-bedroom villas of type A.
LOCATION

Emaar x Elie Saab Villas at Arabian Ranches III are located between Sheikh Zayed Bin Hamdan Al Nahyan Street (D54) and Emirates Road (E611). The closest bus stop to the development is located in Global Village. Al Maktoum International Airport is about a 40-minute drive and Dubai International Airport is a 30-minute drive away.

Due to the convenient location of the Elie Saab Villas in the Arabian Ranches III community, residents will benefit from a well-developed infrastructure and various amenities in the area. Schools, 2 mosques, a clinic, sports courts, retail stores, a splash deck, cycling track and boulevard, BBQ area, skate park, children's playground, botanical gardens, central plaza, parkour course, trampoline park and a squash court/basketball court are all situated within the territory of Arabian Ranches III. The total number of sports courts in the area totals 15.

Residents of the Elie Saab Villas will be able to go to the huge Central Park which has a total area of 322,917 sqft. A cricket pitch, a clubhouse, tennis courts, dining options, a boulevard with a Lazy River and a retail centre are all located within the park. The spacious Elie Saab Villas are an ideal residential option for families with children. All necessary facilities, such as a school, clinic, shops, children playgrounds and more, are within the Arabian Ranches III community. Moreover, the strategic location between Emirates Road and Sheikh Zayed Bin Hamdan Al Nahyan Street provides easy access to other places of Dubai.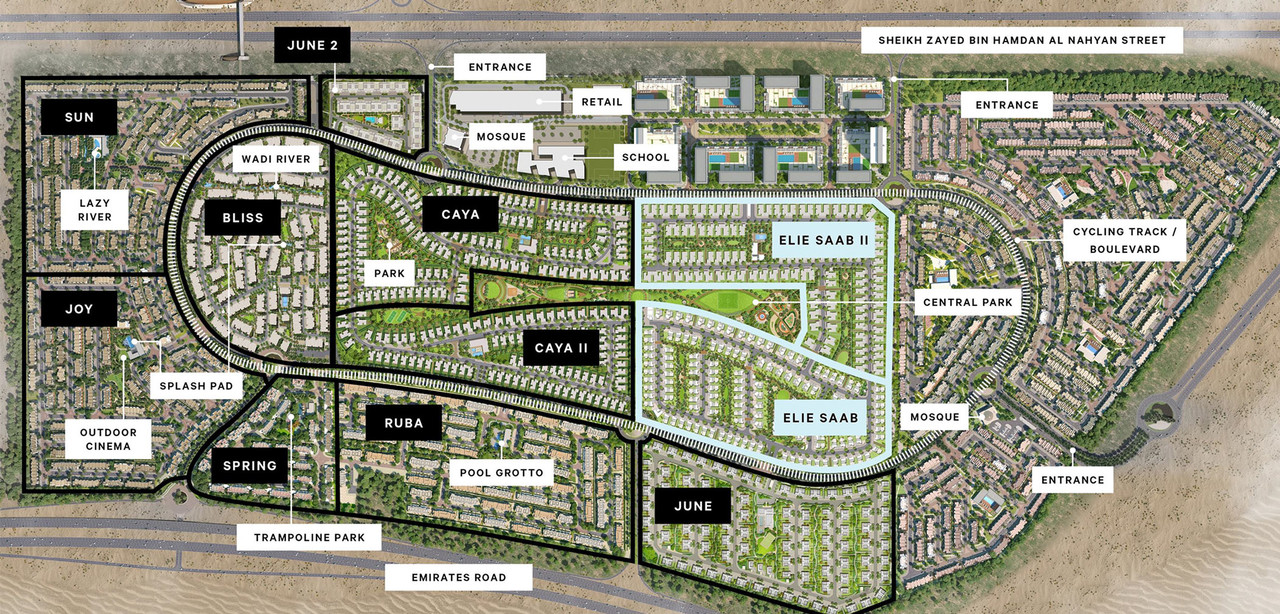 50/50
Payment plan
AED 1.13 Million
Onwards
4 & 5
Bedroom
Features
Branded Luxury Villas
Interiors Designed by Elie Saab
En-Suite Rooms
Room on the Roof Top
Located at the Central Park
Everything Within Reach
Community Amenities
Sports Facilities
Amenities
Parks Green Spaces
BBQ Area
Swimming pool
Kid's Play Area
F&B outlets
Community Center
Pet Park
Fitness Center